Ed Sheeran
August 25th, 2018
Centurylink Field – Seattle, WA
     Last month we were lucky enough to attend Ed Sheeran's largest show to date in Seattle. He sold out Washington State's largest venue – Centurylink Field, a stadium that is home to the Seattle Seahawks and can seat up to 67,000 people. It doesn't get much more perfect than seeing Sheeran perform to an enormous sold out crowd on a summery saturday night. Sheeran is currently on his massive worldwide stadium tour in support of his third studio release ÷ (Divide) that came out spring of 2017.

It's truly amazing how much success Sheeran has received in the past few years. It was only 6 years ago that Ed Sheeran was performing at 106.1 KISS FM's Jingle Ball right next door at a much smaller venue called Wamu Theater. But it comes as no surprise with ÷ (Divide) being certified 3X platinum and the album winning Best Pop Vocal album at the 60th Annual Grammy Awards. Not to mention songs like Perfect that is now 4X platinum and Shape of You being 8X platinum! Typically at shows this size, it's hard to feel a connection with the artist but Ed Sheeran made sure to communicate and joke around with the crowd all throughout the show. In fact, towards the beginning of the show Sherman shortly explained how he is able to do everything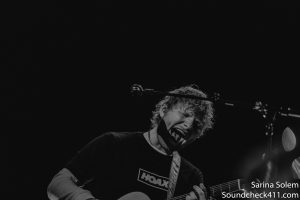 completely by himself on stage with his loop pedal to all of the new fans who were genuinely confused when they saw nobody else on stage with him. Shortly after explaining, he went on to perform a majority of songs off his latest album but made sure to play some old crowd favorites from previous albums + (Plus) and x (Multiply).
The show was filled with frequent memorable moments throughout the night. One of my favorite memories during the show was during Perfect, when the stadium was lit up perfectly by phone lights; It was absolutely breathtaking with the amount of people at this show. I also enjoyed when the entire stadium sat down during Tenerife Sea which took Sheeran by surprise & he admitted that he doesn't get why people don't usually sit down during the song, even saying it's more of a sit down song. And shortly after that when he picked up the pace with Galway Girl, that had everyone dancing before moving on to Sing that had everyone singing as loud as possible! Even when Sheeran walked off stage they were still singing along. Ed Sheeran came back out for a two song encore, the final song he played was my personal favorite, it's an energy filled song titled You Need Me, I Don't Need You. He goes absolutely crazy on his guitar during that song and it typically goes on much longer live than the studio version. The song really leaves the show on a high note!  
Ed Sheeran sure does know how to put on a show, especially a one man show. There's really not much to even criticize other than the fact that more stage production would have have been nice and that's really just a personal preference. The stage set up was really amazing, especially the huge screens in the shape of the divide symbols but I believe it would have been the icing on the cake if there had been actual confetti at the show rather than a video of confetti on the fancy screens. Either way this show is one to remember and we seriously recommend you catch a show near you when possible. You can keep up to date on where he's performing right here.
Review by: Sarina Solem