Twenty One Pilots
November 1, 2019
Staples Center – Los Angeles, CA
   "The only people I like in this city are in this room," lead singer Tyler Joseph joked to a completely packed Staples Center. Fans throughout the room represented with yellow stripes across their camouflage clothes, expressing the aesthetic of the band's latest album Trench. 
Torch in hand, drummer Josh Dun stood with his bandmate, atop a literal burning car, before beginning the set with Jumpsuit & Levitate. The duo were masked for both songs and were finally revealed during song three, Heavydirtysoul. 
Fans sang along with such passion, to nearly every song, which is something that isn't seen often from the "jaded/too cool LA crowds" that artists like to complain about. During Nico and the Niners, Joseph split the pit down the middle, creating a walkway to the second stage. He told everyone to sit down for that portion of the show and claimed it was "for all the dads in the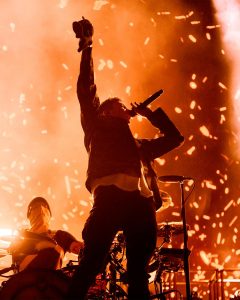 entaudience." 
The way Joseph interacted with the audience was extremely genuine; One of his stories was about the band traveling to tiny venues with the same exact piano that was currently being used in one of LA's biggest venues. 
The show was made even better by the amazing production. From LED screens to CO2 cannons, to a wardrobe changes, every little detail was executed to perfection. And of course, a Twenty One Pilots show wouldn't be complete unless Josh Dun got on his little drum island and played a Seven Nation Army drum cover/solo as the fans held him up. 
Personally, I've seen this duo go from performing at The Wiltern, to The Greek and now to one of LA's biggest venues. As they continue to move upward, their production gets better, the antics become more entertaining, but the best part is they stay grounded. 
Review by: Nicole Lemberg