Post Malone
November 20, 2019
The Forum – Los Angeles, CA
    Touring in support of Post Malone's third studio album, Hollywood's Bleeding – which has been the longest running No.1 album of 2019, Malone wrapped up the first leg of his Runaway Tour in Los Angeles. 
With an arena full of fans chanting "Posty" the rapper came on stage, through a cloud of smoke, beginning his set with Hollywood's Bleeding. Alone on stage, Malone's energy filled the room and captivated the crowd; there was no need for any backing band or dancers to fill the space or entertain the crowd. The stage set-up was simple and production wasn't over the top, making an arena show seem more intimate.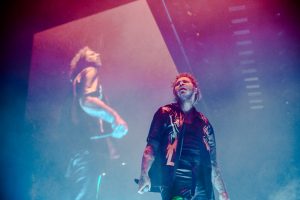 His genre-blending set kept the crowd content as they danced to hits such as Wow., Pyscho and Rockstar and swayed to the slower songs such as I Fall Apart and Stay which Malone played on acoustic guitar. Malone thanked the audience throughout the night and told little stories and meanings behind the songs before performing them. And it wouldn't be a Post Malone show if he didn't do his famous guitar smash during Rockstar. 
There is something about the energy and personality of Post Malone that has the world hooked. He doesn't fit the stereotype of a rapper and the fact that he brings in collaborators like the Prince of Darkness, Ozzy Osbourne shows how he can't be placed in one genre box. It was clear that his shows don't need insane pyrotechnics or lights to keep the audience engaged, and with all the timeless hits he's been releasing lately, it seems like Post Malone is nowhere near slowing down. 
Review by: Nicole Lemberg