Taylor Swift
July 10, 2018
FedEx Field- Landover, MD
    Roughly 65,000 Swifties put on their brave faces and took on the Washington DC heat wave to attend Taylor Swift's Reputation Stadium Tour, night one at FedEx Field in Landover MD. Swift is known for putting on shows that will leave fans in absolute awe, and she yet again PROVED she's still the queen of pop music – move over Beyoncé. Swift is currently touring the world on her massive stadium tour supporting her sixth studio album, Reputation.
Fans flocked in as soon as the gates opened at 5 pm. As I looked around the parking area/the walkways to the gates I could see the excitement on all faces, ages ranging from at least five years to sixty five. The best part of seeing all the fans is the super creative costumes that probably took ages to make. These fans are truly some diehard Swifties.
Opening up the night, was Charli XCX, who's known for many catchy tunes played through your pop radio stations. With only a short amount of time on stage Charli XCX made sure to get all the fans off their feet. Her set was seven songs of her most popular hits and a few covers that she's featured on. Her own songs played were Boom Clap, Break The Rules and Boys. The two covers she performed was Icona Pop's I Love It and Iggy Azalea's Fancy, which got everyone off their feet, bouncing around.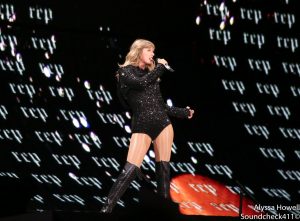 Up next, Camila Cabello took the stage with such a fierce attitude, but with huge smile as the stands started to fill up more. Cabello has been doing well on the charts as a solo artist- she went from being in a popular girl group to a successful solo artist. Cabello had a set of nine songs, and within that time she had to get the crowd dancing, out of their seats and pumped up for Swift to take the stage. Cabello performed so many of her catchy tunes, such as radio hit, Never Be the Same. She also played shortened versions of She Loves Control and Inside Out. Not only did Cabello play her hits, she also threw in a cover of her and MGK's song Bad Things. Cabello appreciated her fans in between her little break dances during her set and she ended things off with a bang, closing out her set with Havana.
9pm sharp, the lights went out and all 65,000+ wristbands began to glow as Joan Jett's Bad Reputation was played before the Reputation introduction video brought Taylor Swift out on stage. The screams grew louder and louder as the smoke rose. Swift's stage was backed by a massive LED screen that opened in half. She walked out with her hood up as she began Ready For It? The fans all around were filled with so many overwhelming emotions, some cried (happy tears of course) and some are probably going to be voiceless.
Swift made her way out on stage along with her back up dancers, the many back up dancers. There were six different "acts" / costume changes in her set. Act one included some fire and a few fireworks. Transforming into the second act, a video interlude of Look What You Made Me Do played as it transformed into the actual song itself. She also played one of my personal favorites, End Game. Into act three, Swift brought out tour mates Charli XCX and Camila Cabello to perform Shake It Off alongside her. After that, Swift made her way to one of her B-Stages that had these massive snakes coming out from the bottom. Swift slowed things down as she brought out her acoustic guitar and played So It Goes and a song she hasn't played live (or acoustic) since 2014, State of Grace from her RED album.
Into act four, Swift made a statement about joining the other side of the stadium on the other "B-stage" so she made her way and as she did, she greeted some lucky fans by trying to shake everyone's hand down the walkway to the other stage. During her time on the opposite side she played Blank Space and Dress. She also performed a medley of Bad Blood and Should've Said No, which was during the fact Swift got into what seemed to be a carcass of a snake that lifted her above fans and took her back to the main stage as she sang the medley of songs. That was one of the more unique parts of the set and you know it wouldn't be a Taylor Swift show if she didn't hover over the crowd at some point of the show. Act five was a shorter act but her performance of Don't Blame Me featured some of her dancers in between the sliding screens, attached to a harness to make them fly and jump around while the others were backing up Swift in the middle of the screens. After that, Swift decided to slow things down a bit, her beautiful piano with the word "Reputation" written across the side. She started to perform Long Live, and dedicated the song to her fans who have been there since day one. The fans who have related to her throughout her journey in life. The smile on Swift's face was as big as when she first took in the crowd at the beginning of the show. Turns out this song was another brilliant medley of Long Live and New Years Day.
Transforming into act six, the "Why Did She Disappear" interlude video took over the giant screen so the dancers and Swift could do a quick costume change. It appeared that the video was a sequel to Swift's Out of the Woods music video. Swift took the stage that lit up from the bottom making it look like a dirt road, as she performed Getaway Car. Then she swiftly moved into Call It What You Want. As Swift's nineteen song setlist came to an end, of course she ended with a massive bang- a medley of We Are Never Getting Back Together and This Is Why We Can't Have Nice Things. Her stage lit up, along with the crowd's synchronized bracelets, then at the end, fireworks lit up over the stadium.
Taylor Swift, her dancers and her crew have absolutely outdone themselves. The production on this tour is the best one yet, and no I'm not being biased. Do yourself a favor and grab some tickets and attend a show if it comes to a city near you, you won't be disappointed.
Review by: Alyssa Howell
Taylor Swift
Camila Cabello 
Charli XCX