KROQ Absolut Almost Acoustic Christmas
December 12, 2018
Forum – Los Angeles, CA
   It was that time of year where KROQ brings rock music to the masses. Night One of KROQ's Absolut Almost Acoustic Christmas always delivers on the rock front, a genre that many are afraid is slowly fading away. For those who think that, Night 1 definitely made a point to show how rock music is regaining momentum in this pop-music-filled era. With both emerging talent and legendary artists, Night 1 had something for everyone. 
Kicking off the night were Los Angeles locals, Badflower who are getting a lot of attention for their single Heroin. These guys kicked off the show with straight rock n' roll, something we don't see many bands doing much of nowadays. Lead singer Josh Katz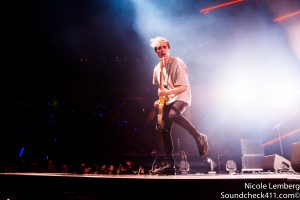 screamed lyrics with such intensity while bassist, Alex Espiritu was constantly jumping around the stage, making them both visually and musically entertaining. 
Following them was probably the least rock band of the night, AJR. However, these brothers were some of the most unique performers of the evening. The New York based pop group, known for hits such as Weak, Burn The House Down and Sober Up were not only energetic throughout their set, but also showcased their musicality, explaining and demonstrating how they make music and songs. The group write, produce and mix all their material in their apartments and demonstrated the steps with a looper, on stage with their latest radio hit Burn The House Down. 
Up next was another Los Angeles based band, The Interrupters who perform very feel good Ska Punk. Their latest album, Fight the Good Fight, produced by Rancid's Tim Armstrong features She's Kerosene, their single which peaked at #2 on Billboard's Independent Albums. With the members all in matching black and red suits and all running in place, these guys and gal provided for a fun and exciting set. They even surprised the crowd with Tim Armstrong on guitar and vocals, performing Timebomb and ending their set with Family. 
Celebrating their latest EP, The Missing Man, KROQ Almost Acoustic Christmas veterans, AFI took the stage next. They kicked off their set with their biggest hit Miss Murder, which is a pretty risky thing to do. Most bands save their hits for last so it was really great seeing how these guys were able to perform their biggest hit and continue to perform a set not worth missing.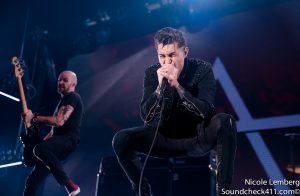 Frontman Davey Havok is one of the most entertaining performers to watch, period. His confidence and composure is captivating. Bassist Hunter Burgan is also a madman on bass, jumping off risers while guitarist Jade Puget twirls and holds his guitar out for solos. Havok treated the crowd to his famous God walk during I Hope You Suffer and they put they night back in line with the rock genre, after the quick genre change with AJR and The Interrupters. 
Following them was another KROQ favorite, Bad Religion. These guys are always enjoyable to watch and it's just so easy to sing along to their many hits. While they're not the most entertaining band to watch, they do deliver with the songs, which is all that matters. 
Greta Van Fleet took the stage next. With four recent Grammy nominations under their belt, these guys were one of the more anticipated acts of the night. As the stage spun to show the band, the smell of incense lingered in the air. Singer Josh Kiszka held his arms out, holding bouquets of flowers, before throwing them into the crowd and going into their first song of their set, The Cold Wind. Vocally Kiszka is powerful, but ultimately the band lacks originality, seeming like a Led Zeppelin cover band, from the outfits to how Kiszka moves on stage.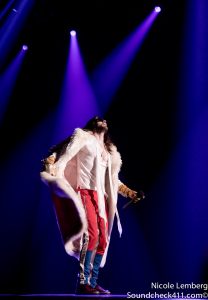 Third Eye Blind followed and while again, like Bad Relgion weren't the most exciting band to watch on stage, they have their hits, which everyone can sing along to, so that was definitely a good time. 
As the night was coming to an end, Thirty Seconds to Mars was up next. With just Jared and Shannon Leto, these guys did a great job getting the crowd excited, having the audience wave 30STM flags in the pit, shooting confetti in the crowd and throwing big inflatable balls into the crowd. These guys definitely know how to entertain the crowd, and engage with their fans which was seen when Jared started inviting fans to dance with him on stage. 
Closing out the show were Smashing Pumpkins who performed hits such as Today, Bullet With Butterfly Wings, Cherub Rock, Tonight Tonight and included some covers such as Never Let Me Down Again by Depeche Mode and Friday I'm in Love by The Cure. 
KROQ definitely knows how to deliver an amazing holiday festival and this was the perfect line-up for rock lovers of all ages. We can't wait to see what next year has in store! 
Review by: Nicole Lemberg