Jingle Ball
December 10, 2018
Capital One Arena – Washington, DC
   It's that time of the year again where iHeartradio, Capital One and the local radio stations in major cities such as Los Angeles, New York, Atlanta & Washington DC team up to bring fans the annual Jingle Ball featuring the hottest artists in the music industry.
For the third year in a row, we have been lucky enough to be able to come out and cover the year's Jingle Ball in Washington DC. This year the lineup was a mixture of different genres that included this year's hottest hits  & more. Washington DC got treated to Shawn Mendes, G Eazy, Meghan Trainor, NF, Bazzi, Bebe Rexha, The Chainsmokers and Sabrina Carpenter.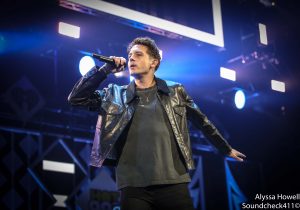 The night started out with Sabrina Carpenter, who began her career as an actress on Girl Meets World then transitioned into a pop-star in the music world. She performed a few hits of hers which included Almost Love, Why & Sue Me. Up next was Bazzi who performed a few hits of his own such as Myself, Dreams and 3:15. Captial One Arena turned a bit dark for this next act, a cage stood tall on the stage with the next performer. The lights went dark, singer NF took the stage but was trapped inside the cage as he performed his first song Outcast. He then proceeded to climb to the top of the cages throughout his set as he continued to perform. He performed the following; Lie, Green Lights and his most popular single Let You Down.
After an interesting set from NF, I must admit I was pretty excited for this next artist. The screams from the area were quite deafening as Shawn Mendes took the stage. This guy has opened up for Taylor Swift and has headlined his own world tours, PURE TALENT. Now we didn't get the whole Shawn Mendes experience but at least we got to see him play hit after hit including There's Nothing Holdin' Me Back, Stitches, Mercy and In My Blood. He also did a medley of King of Leon's Use Somebody & his own Treat You Better. Once Mendes wrapped everything up on stage, Bebe Rexha was due to take on the iHeart stage. Opening up with Me, Myself & I she was nothing but smiles and really friendly with the fans right in front of her. She also played her latest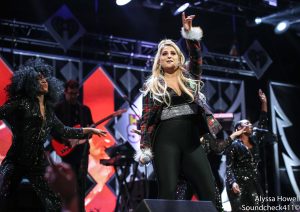 single I'm a Mess and Meant to Be. 
I know I said that Shawn Mendes' set was the one I was really looking forward to, but I mean G Eazy is personally one of my absolute favorite artists. I got to see G-Eazy on his latest summer tour and boy does that guy put on one killer show. He opened up with the same song Bebe Rexha did Me Myself & I. From the moment G-Eazy took the stage he was nothing but smiles. During his set he played I Mean It, 1942, Him & I and No Limit. His whole set was nothing but a good time, he absolutely nailed it. After G-Eazy, the stage was in the hands of superstar Meghan Trainor. If i remember correctly, she was supposed to be on last years Jingle Ball but had to cancel due to illness. But lucky enough for her fans she made it to this years Jingle Ball and they couldn't have been more excited. She performed her most popular single All About That Bass, as well as Like I'm Gonna Lose You, No Excuses and Me Too. 
As the night came to an end and with the final performers of the night, the fans got louder for The Chainsmokers. The duo played an eight song setlist which included Roses, a few new singles such as Sick Boy & Beach House, Paris and Closer. Not only did they play their most popular singles featuring some talented artists, they also played their cover of Coldplay's Something Just Like This. After it was all said and done, that is a wrap on Washington D.C's iHeartRadio Jingle Ball. Nothing but laughter, smiles, insanely talented artists. Couldn't ask for a better way to ring in the upcoming holidays. Until next year…
Review by: Alyssa Howell
Bebe Rexha
G-Eazy
Meghan Trainor
NF
Sabrina Carpenter
Shawn Mendes
Red Carpet